In the upsurge of studying, publicizing and implementing the spirit of the 20th CPC National Congress, the "Red Power & Artistic Inheritance" - 2022 Shanghai University Students' Red Culture Creative Competition, under the guidance of the Shanghai Municipal Education Commission, sponsored by the Shanghai University Students' Red Culture Creative Base (a culture-education integration project) and undertaken by the Shanghai Theatre Academy (STA), is being rolled out vigorously under the overall planning of STA's Student Work Office. After the preliminary defense rounds, the list of approved projects was officially determined recently.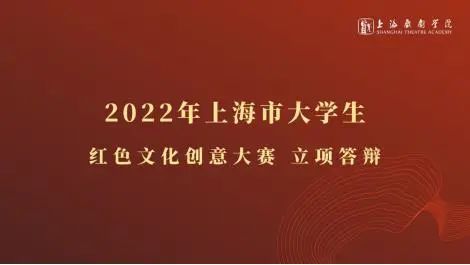 The competition was open to students of Shanghai-based universities for wider collection of entries. On 29 and 30 October, 109 groups of contestants from 21 universities across the city participated in the defense rounds online. The defense rounds were for three separate tracks, namely, cultural creative product design, digital cultural creative product design and cultural tourism route design, and there were four rounds in total. The project teams made presentations on the content, features and points of innovation, feasibility analysis, significance and expected outcomes of each project within the prescribed time.
According to the characteristics of different tracks and types of works, the organizing committee of the competition invited internal and external experts from relevant fields to form the judging panels. During the review process, the judges not only put forward targeted opinions on each project, but also pointed out the direction of subsequent optimization and improvement of the project concerned and provided new ideas for further polishing the works, which were highly beneficial to the contestants.
The successful defense rounds not only demonstrated the youth style of university students in Shanghai in the red culture creative field, but also demonstrated the fusion and alignment of red culture with university campus life in the new era. Many excellent projects left a deep impression on the expert judges.
After careful selection and careful check by the expert judging panels, 87 groups of red culture creative projects stood out from the defense rounds and were successfully approved. Among them, the 11 groups of projects with outstanding performance in the defense rounds and an average score ranking in the top 10% of their respective track were listed as the key projects of the Red Culture Creative Competition by the organizing committee. All of the above projects will receive corresponding professional guidance and financial support.