On the morning of 3 November, Ms He Jie, chief host of the SMG Media Centre and resident artist of the Shanghai Theatre Academy, conducted a PT Expert Workshop for the sophomore and junior students of hosting major for the first time. Affected by the COVID pandemic, teachers and students carried out interactive exchanges via Tencent Meeting, and Ms Fei Yong, director of the hosting major, chaired the expert workshop.

The students took turns to ask Ms He Jie about their confusion encountered in studying the hosting major, especially about the interview programs. Ms He Jie answered the questions one by one, and Ms Fei Yong also answered in supplementation. Through learning in this workshop, the students acquired a new understanding of the hosting major through the solution of specific problems, and started thinking about the hosting major from a new perspective and a new height.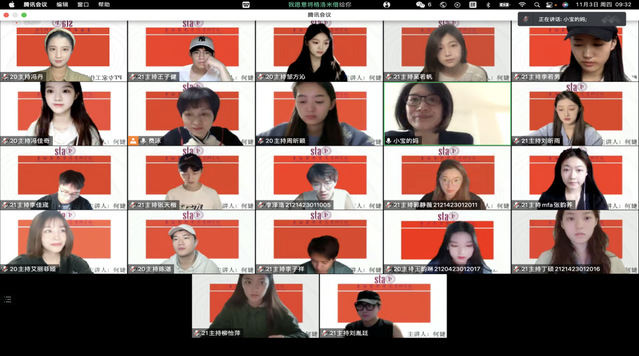 At the end of the workshop, Ms He emphasized on the grasp of the objective laws, and Ms Fei summarized the workshop. The two teachers also put forward their prospects for the future workshops and gave their best wishes to the students. The teachers and students took group photos online to mark the occasion, which brought Ms He Jie's online expert workshop to successful conclusion.