This semester, from 10 April to 29 May, the History and Theory Teaching and Research Office of the Dramatic Literature Department held an online book reading session of the "Read Academic Classics Together" series on time at 7 p.m. every Sunday. This spring, Shanghai entered the period of an all-round anti-COVID battle. All offline teaching was switched to online, and students' activities were also limited within a very small extent. In order to ease the anxiety of students and keep them from forgetting to study and neglecting their study during this special time, the Dramatic Literature Department launched a large-scale online theme activity entitled "Read Books, Read Dramas and Read the World: Dramatic Literature Department in the Spring". This series of book reading sessions organized by the History and Theory Teaching and Research Office was also a section of this activity, i.e. "Read Books".

A total of eight book reading sessions were held, with each teacher of the teaching and research office recommending an academic classic in his/her mind and sharing his/her own reading experience with all the teachers and students in the entire university. During the eight sessions, we shared eight classic books, namely, "The Book on Aesthetics", "The History of Chinese Opera in the Song and Yuan Dynasties", "The Aesthetics of Chinese Opera", "The Collection of Jiao Juyin's Papers on Drama", "Between the Big and Small Stages: A New Theory on Cao Yu's Drama", "The History of Western Philosophy", "Drama and Its Reflection", and "Hamburg Dramaturgy". These classics need to be read frequently, intensively and carefully.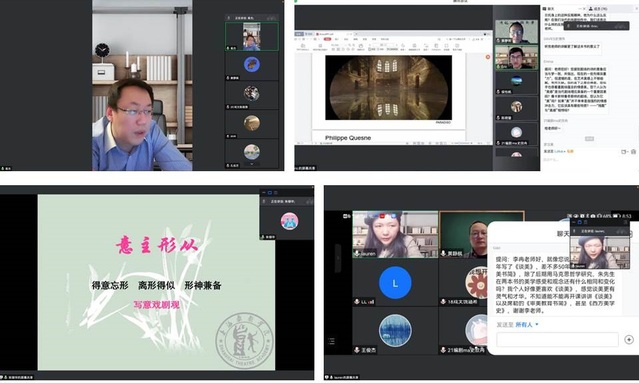 At the book reading sessions, each of the teachers guided the students to understand a classic book from the aspects of book completion, main contents, research methods and academic value, and told them how to learn from the excellent academic experience of scholastic precursors and apply it to their own learning and research. Inspired by the teacher's reading experience, the students had more thoughts and ideas about their future study. They actively spoke, asked questions and expressed their feelings during the reading sessions. Although it was online, the atmosphere is warm and the effect was obvious. At the same time, the teachers re-read these classic books and also gained a lot of new academic inspiration.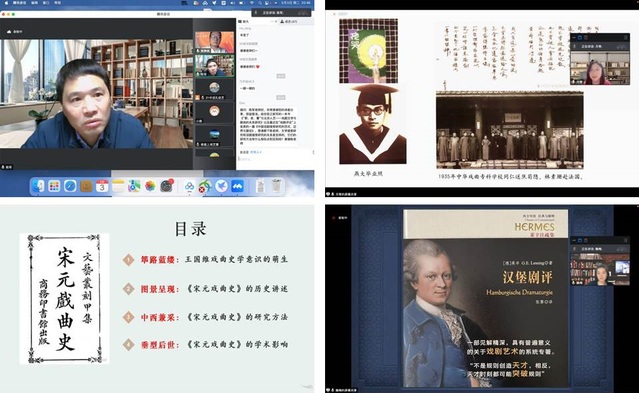 In fact, the significance of this series of book reading sessions was more than that. Different teachers have different knowledge structure, teaching ability, way of thinking, cognitive habits, and way of expression etc. Such a difference itself is a kind of resource. We come together to discuss learning, and to discuss ideas, so as to achieve sharing and mutual benefit through this way. This has played an important role in promoting the formation of a "teaching-research" community with the teaching and research office as the unit. Through this activity, the team spirit of the History and Theory Teaching and Research Office has been further stimulated, and more experience has been gained in terms of the development of the History and Theory Teaching and Research Office.
It is reported that the majority of teachers and students have hoped that such kind of book reading sessions could be held on a long-term basis. We intend to write the book reading sessions into relevant regulations as a regular activity of the History and Theory Teaching and Research Office, so as to ensure normalization and standardization, and to give full play to the role of the teaching and research office as a building brick in specialty construction and discipline construction. In the future, the History and Theory Teaching and Research Office will continue to hold a series of sharing events on a certain topic, such as "topic on theatricality", "topic on cross-culture" and "topic on new liberal arts", for which we look forward to the joint participation of teachers and students.