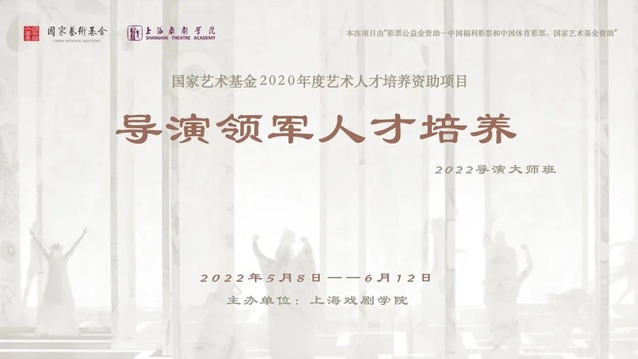 The "Leading Directors Training Program", a project of the CNAF Funding Support for Art Talents Training 2020 undertaken by the Shanghai Theatre Academy (STA), will officially begin on 8 May as an online course.

After the "Leading Directors Training Program" began to accept application in January this year, it attracted great attention from well accomplished directors and actors of many theatres and troupes as well as relevant college and university teachers, including winners of the "Wenhua Award" and the "Plum Blossom performance Award", as well as outstanding artistic talents involved in the creation of national exquisite stage art works. After an all-round and multi-level assessment, 30 formal trainees and a certain number of observers were finally selected to constitute the learning team of this program together with the graduate students of the Directing Department of STA, who will follow some of the directing masters active in today's theatre stage for an interactive course of learning.

This training program will run for five weeks from 8 to 12 June 2022. The keynote speakers are Professor Lu Ang, the program leader and doctoral supervisor at the Shanghai Theatre Academy, Lei Guohua, national grade one directors at the Shanghai Dramatic Arts Center, Song Jie, professor and national grade one director at the Shanghai Theatre Academy, Wang Xiaoying, former executive vice president of the National Theatre of China and national grade one director, and Zhang Manjun, supervisor of Chinese Opera Studies at the Chinese National Academy of Arts, vice president of the Chinese Opera society and national grade one director.
In addition to learning the professional knowledge of directing, the trainees will also observe and discuss the classic dramatic plays under the guidance of the keynote speakers. Besides the keynote speakers, the program will also invited more than 20 senior artists to give lectures. Additionally, the program will also hold five salons and five youth directors forums to provide the trainees with the platform of exchange, thus striving to cultivate leading directors of today who "take root in China, have an international perspective, integrate China and the west, and are brave in innovation", so as to create exquisite stage art works of today with vitality.