On 29 April2022, the party branch of teachers of the College of Film of Shanghai Theatre Academy, together with the general party branches of the School of Science, Technology and Humanities and the School of Marxism of Shanghai University of Traditional Chinese Medicine jointly held an online party day event of the "Party History Learning and Education" series. The theme of this event was "Continue to Learn the Glorious History of a Hundred Years of the Party - Talking about the Management Wisdom in the History of the Party". All teachers of the College of Film who are party members attended the lecture, while some of the students who are party members also sat in as observers. Dr Gu Yu, a research fellow of the United Front Theory Research Base in Shanghai of the Department of the United Front work of the CPC Central Committee, was invited to talk about and share the experience and wisdom in the centennial history of struggle of the Communist Party of China.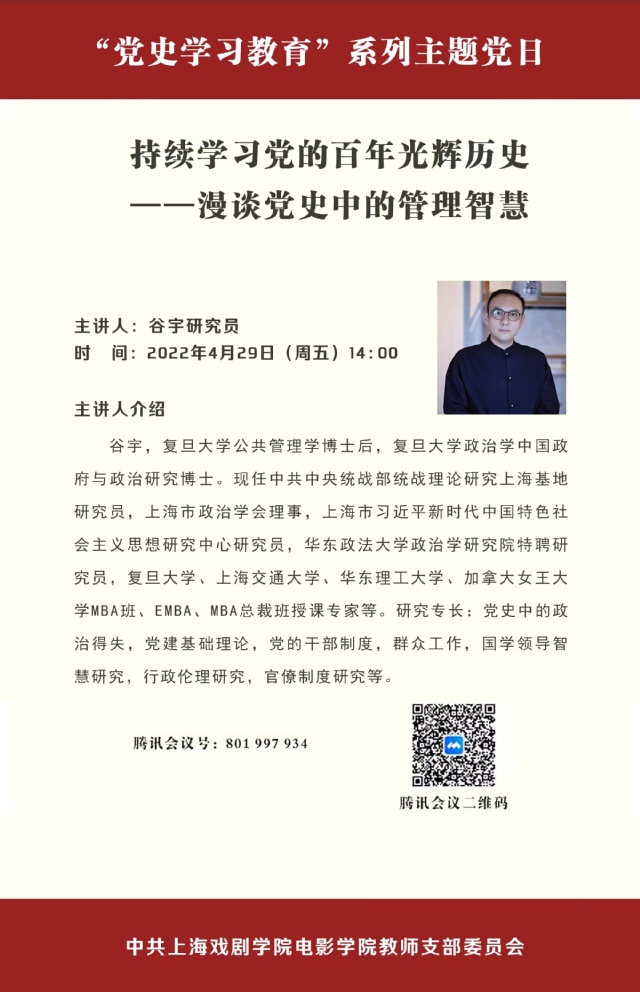 The main content of the lecture was divided into three parts. The first part focused on the organizational vision of the Communist Party of China, and expounded that the correct guiding ideology is the premise for the success of a political party and an organization and Marxist thought has provided the ideological weapon to change the fate of China. The second part focused on the quality and potential of Comrade Mao Zedong as the leader, and analyzed several critically important ideological changes and decision-makings in the early stage after the founding of our party. The third part analyzed the success of the Chinese revolution and the enlightenment that the success of the revolutionary road with Chinese characteristics had brought to the organizational construction from the perspective of the leadership art of managers. Finally, Dr Gu Yu summarized the valuable original aspiration that the Communist Party of China has always upheld in its history of struggle of a hundred years from the four major aspects, namely, the source of strength, pillar of spirit, ideological cornerstone and political wisdom.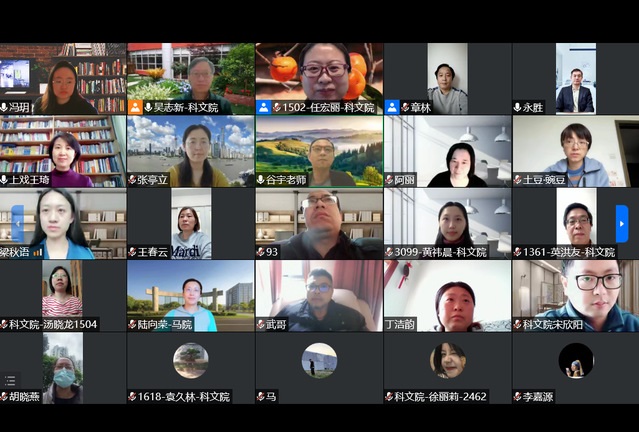 Dr Gu Yu's lecture was unique in its content and perspective, and was natural and vivid in its style. It analyzed the profound in simple terms why only the Communist Party of China can save China and find the way out for development and direction for moving forward for the country and nation. The party members who listened to the lecture said that reviewing the original aspiration and mission of our party is to strengthen the belief and sense of responsibility of each party member. In the future, we should further understand and apply the organizational and management wisdom of the Communist Party of China in classrooms and in life, educate and guide students in terms of morality and values with the valuable wisdom and experience of the party, realize the fundamental goal of "establishing moral values and cultivating people", and cultivate excellent socialist builders and successors for the new era.