On the afternoon of 16 November, the second lecture of the"DramaticArtCreation" Lecture Series, being part of the project of dramaturgy course construction of the first-class undergraduate programs of the Shanghai Theatre Academy, was held. As the keynote speaker, Professor Yi Tianfu gave a lecture entitled "Text, Space and Spirit of Theatre - How Stage Design Serves Theatre" in Room 206, Red Building, Huashan Road Campus.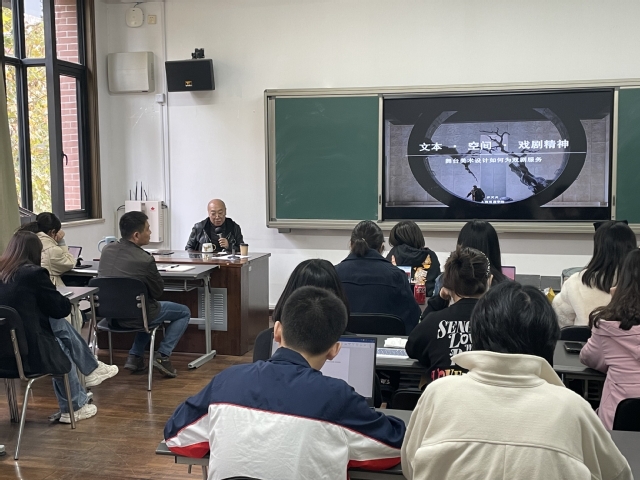 Yi Tianfu is a professor, doctoral supervisor, dean of the Department of Stage Design and director of the Performing Arts Center of Shanghai Theatre Academy. He has been deeply engaged in the field of stage design, created a large number of stage works, and won a series of awards, including the Golden Lion Award for Stage Design of Chinese Drama, the Culture Award for Lighting Design, the "Five One Project Award", the National Stage Project of ExcellenceAward, etc. He has rich experience of practical creation and solid achievements of theoretical teaching.
In the lecture, Professor Yi Tianfu introduced the artistic functions of stage design and stage space structure in the process of theatrical creation from the three dimensions of "stage design and script", "stage design and directing" and "image creation of stage design", with the support of a large number of creative practice cases.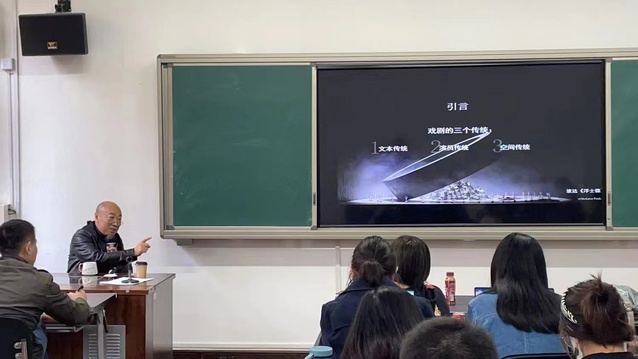 Professor Chen Jun, dean of the Department of Dramatic Literature, summarized the lecture, shared his reflections from the lecture with the students, and encouraged everyone to cherish and grasp the rare learning opportunities, recognize theatre from different angles, open up the perspectives of research, so as to establish a comprehensive view of theatre.