3 June 2014
On the evening of 29 May, the 4th STA Campus Psychology Sitcom Competition was held at the White Palace Theatre on the Lianhua Road campus of the Shanghai Theatre Academy (STA). The competition was sponsored by the Office of Student Affairs and hosted by the College of Chinese Opera. The judges for the competition included Hu Min, Vice Chairman of STA and Zhang Haiyan, Deputy Director of Shanghai Students Psychological Health Education and Development Centre and Professor of East China University of Politics and Law, as well as the relevant experts and executives from STA's Dramatic Literature Department, Drama Writing Centre, Development Planning Office, Directing Department (including Chinese opera directing) and Acting Department.
Promoting and advocating the knowledge and concept of psychological health has been a work of priority for all universities. Capitalizing on the advantages of its academic specializations, STA uses theatre as the means to combine psychology with theatre and hopes to guide the students to be self-conscious, care about the others, build up a healthy personality and develop the psychological potential by way of holding the campus sitcom competitions. The sitcom competition this year took the advantage of the momentum of the National University Students Psychological Health Day on 25 May and had seven plays selected into the final round. On and around the theme of "Create and Share the Power of Dreams", these plays highlighted the psychological conflicts commonly encountered by university students of today as well as a variety of psychological experiences in their efforts to pursue their dreams.

After the performances of all competing plays, the judges gave the subjective and fair comments from the professional perspectives covering psychology, script and acting. Finally, the play "Distance Times Four" won the first prize. This play, which was written, directed and performed by the Year 2013 students of the Department of Directing, reflected how the four freshmen living in the same dormitory but with different geographical backgrounds broke through the shackles and built up the friendship.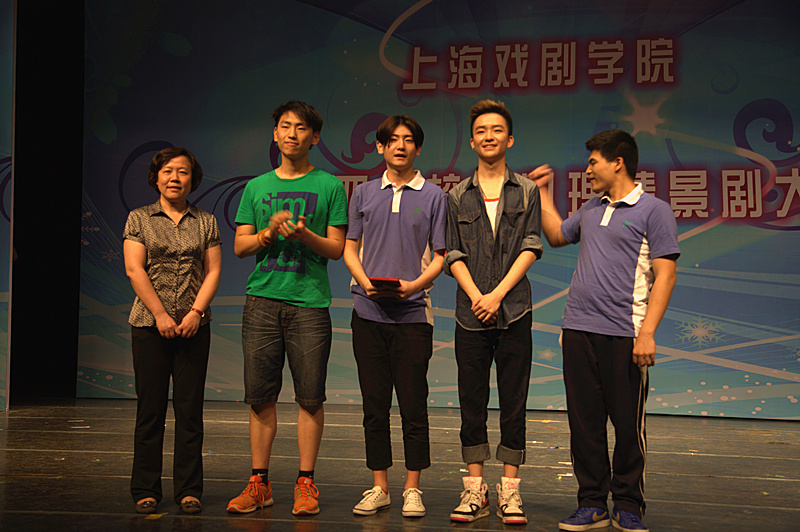 Hu Min, Vice Chairman of STA, presents the award to the first prize winning team
Group photo of advisory teacher and students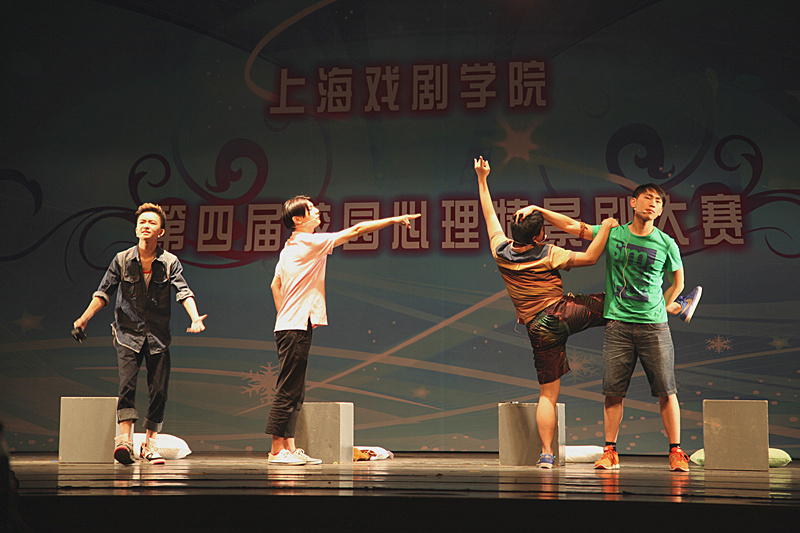 Stage photo of first prize winner "Distance Times Four"