3 June 2014
From 19 to 20 May, the Beijing and Shanghai Expert Seminar on Plays Written by STA Postgraduate Students was held successfully at the Shanghai Theatre Academy (STA). The seminar, which was organized by STA's Theatrical Writing Centre, brought together 24 theatre experts and 12 postgraduate student writers for a sincere and honest dialogue about theatre.
During the seminar, the 12 experts from Beijing provided their opinion and guidance on 12 pays respectively. In the meantime, the experts from Shanghai held discussions with 12 postgraduate student writers. In order for more students to have the opportunity for exchange with the experts, the seminar made the special arrangement for four experts, namely, Li Yinggai, Wen Dayong, Zhang Jianzhong and Zeng Xianping to hold academic lecturers at the Red Building of STA for a larger number of students from the various specializations of STA. The seminar also arranged for the postgraduate students to have the one-on-one in-depth discussion, which was proved to be very effective and successful.
During the seminar, Prof Han Sheng, President of STA and Prof Guo Yu, Vice President of STA also participated in the discussions between the experts and students and made warm remarks.
Prof Lu Jun of STA, who was the planner and organizer of this event, advised that the Beijing and Shanghai Expert Seminar on Plays Written by STA Undergraduate Students would also be held at an appropriate time.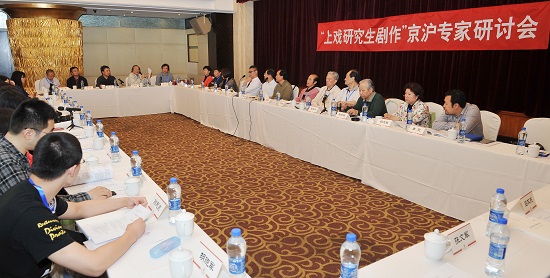 Seminar in progress
Experts give academic lectures at Red Building