29 May 2014
Sponsored by the China Association of Stage Art (CASA), the 2014 China Stage Art Creative Show was held at the China International Exhibition Centre in Beijing from 26 to 29 May.
At the invitation of CASA, the Shanghai Theatre Academy (STA) participated in the show with a strong presence from its Virtual Studio to showcase STA's achievements in the recent years in the exploration of new media performances in front of the counterparts and audiences from across China.
On the morning of 27 May, Prof Han Sheng, President of STA, who was in Beijing for the CASA President's Meeting, came to the show and met with the members of the STA delegation.
The new media performances that the STA Virtual Studio brought to the show included new media dance poem, new media musical drama, new media modern drama, new media poem drama, and stage architectural lighting projection, all of which represented the high level of artistic and experimental standards, fully reflecting the artistic form and unique charm of the new media performances. These works of the STA Virtual Studio, which were full of the force of impact in its all-rounded and three-dimensional presentation, attracted most of the attention. The design works of some of the STA teachers were also on display at the 2014 China Stage Art Creative Show.
Held side by side with the 2014 China Stage Art Creative Show was the 12th China International Entertainment Equipment and Technology Forum. This forum, which was sponsored by the China Entertainment Equipment and Technology Association, brought together professionals from China, UK and Germany, who held discussions on the topic of "The Application of Multi-media Audio and Video Equipment and Technology in Entertainment". Mr Liu Zhixin, Associate Dean of STA College of Creative Studies, made a keynote speech entitled "The Practice of Artistic Creation in New Media Performances" at the forum.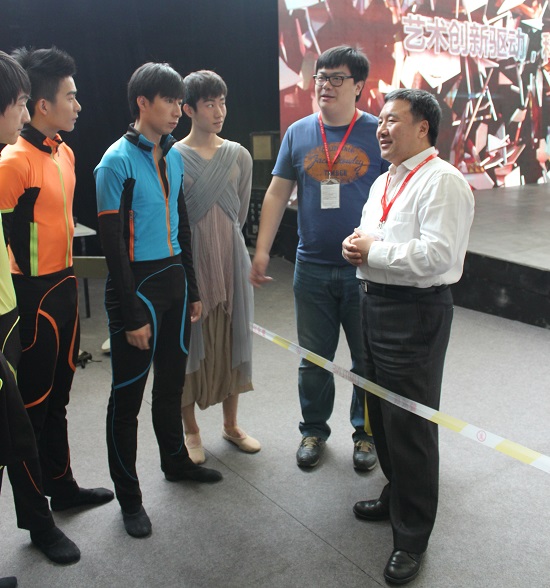 Photo: STA President Han Sheng meeting with members of STA delegation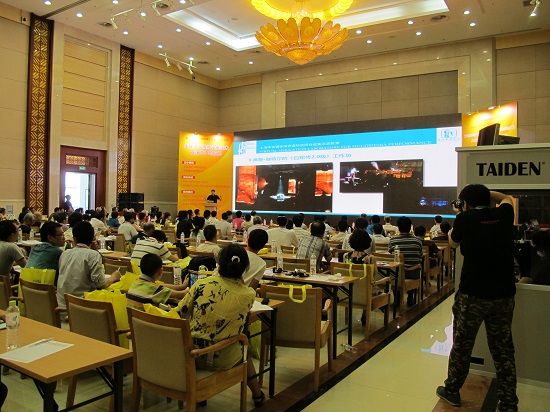 Photo: Mr Liu Zhixin making a keynote speech at the 12th China International Entertainment Equipment and Technology Forum
Photo: STA's new media dance poem "Totem of Civilization"