26 May 2014
On 22 May 2014, Prof Madeline Puzo, Dean of School of Dramatic Arts, University of South California (USC) and Prof David Bridel, Director of International Development, USC School of Dramatic Arts, visited the Shanghai Theatre Academy (STA). The STA leaders and executives who were involved in receiving the USC guest included STA Chairman Lou Wei, STA President Han Sheng, STA Vice President Guo Yu, Dean of Acting Department Long Junjie, Associated Dean of Directing Department Han Xuesong, Director of International Exchange Centre Zhang Yunlei and Associate Dean of Postgraduate Programs Liu Qing etc.
On the early morning of the 22nd, the representatives of USC School of Dramatic Arts arrived at STA's Huashan Road campus. Starting with a guided tour of the campus, they observed with great interest the acting, vocal and directing classes conducted by some of STA's leading teachers, and also visited the Virtual Studio. After lunch, they travelled to the Lianhua Road campus where they observed the folk dance class of STA College of Dance, as well as the puppet class and Kunqu opera class of STA College of Chinese Opera. After observing these classroom teaching sessions, the representatives of USC School of Dramatic Arts had a detailed discussion with the STA leaders and heads of the relevant colleges/departments on the directions and plans for future cooperation between the two sides. The directions of cooperation included study tours by students, student and teacher exchange programs, joint performances and applied theatre practice etc.
Having visited STA in person, the representatives of USC School of Dramatic Arts expressed the keen desire to cooperate with STA. They spoke highly about the completeness of STA's scope of disciplines and STA's high quality of teaching, and were particularly interested in STA's progress in the utilization of multimedia and related technologies. USC School of Dramatic Arts is known globally for its quality of teaching, while STA also enjoys a high reputation in China and internationally. It is believed that the mutual cooperation and mutual assistance between the two sides would definitely further increase STA's standard of drama teaching in an all-rounded way.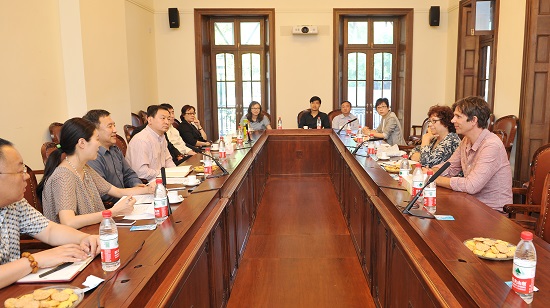 Photo: Friendly discussion between two sides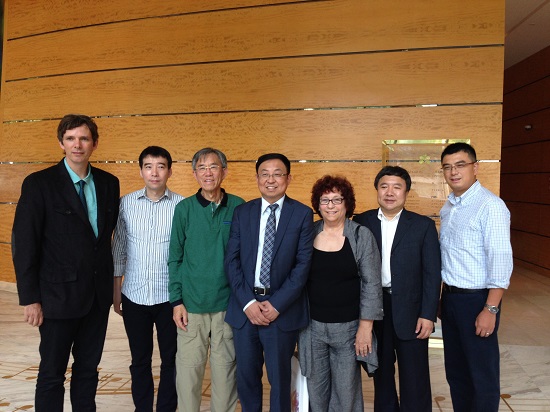 Photo: Group photo of meeting participants