2013-7-3
From 26 June to 30 June, 2013, Performance Studies International Conference 19 was held in Stanford University in America. The conference was held by Theatre and Performance Studies Department in Stanford, and more than 700 scholars, artists and social practitioners attended. Led by Professor Sun Huizhu, 7 teachers and students from STA attended the conference on behalf of China.
Performance Studies is a new crossing subject popular in western humanity area since late half of 20 century. It originated in New York University back in 1979 when Professor Richard Schechner and Professor Victor Turner co-started it. Many top universities in America, such as Brown University, Stanford University, University of California, Berkeley, etc changed the name of Theatre Department into Theatre and Performance Department. Many humanists and artists marched into the performance studies form different academic and art backgrounds. The researches cover aspects more than philosophy, politics, religion, history, economy, technology, environment, race, gender, etc. The outcomes include theoretical research, cultural comments, social practice and cross-field creation.
The first Performance Studies International Conference was held in NYU in 1995. PSI, Performance Studies International, was established in 1997 and the official website is http://www.psi-web.org/ was online. PSI has a committee which will discuss the major issues in this subject and decide the host and topic for conference every year to improve the communication and cooperation on the Performance Studies all over the world. Up to now, the conference has been held in New York and Chicago in America, London and Leeds in UK, Utrecht in Dutch, Toronto in Canada, Singapore, etc. The theme for this year is "Present•Past: Time in Performance". With the university motto of "Freedom" and the creed of "innovative development", representatives carried on intensive and abundant academic communication activities about the theme, and the flexible yet efficient academic conference system made it possible. In 5 days' conference, there were key note speeches and brilliant dialogues as well as the theme discussion and deep research in dozens of conference rooms. Creative performance, human body interpretation, workshops were also available everywhere.
Professor Sun Huizhu started Performance Studies of Chinese features with team from STA since 1999. It combines art performance and society performance, mainly focuses on the character rules and performance training from different fields and lines from society. The team finished many projects and practice; they won attention from government, enterprises, and educational organizations; what's more, they gain more and more important discourse right in Performance Studies International. Nowadays, STA owns supporting for major construction form bachelor to master and doctor degree, and subject development guarantee for teaching research and practice explore. In 2013, the program was awarded as Cross-subject Creative Talents Development Program for post graduates. Professor Sun Huizhu, Professor Zhang Shengquan, Deputy Professor Shen Liang and Peng Yongwen will be in charge of the dissertation speech. The topics include the development and speared of theatre art, the time coordinates of the image shaping for the leaders, the ways and forms for theatre into society (forum theatre, community theatre, etc). The topics arouse great interests from international peers.
At the end of 2012, STA won the host for Performance Studies International Conference 20 in 2014, based on the theme "pioneer•tradition•community" and a very complete conference planning. The attending to the conference this year is a great opportunity to show our research path and results as well as the chance to learn organization and management experience, which offers preparations for the conference next year.
Opening ceremony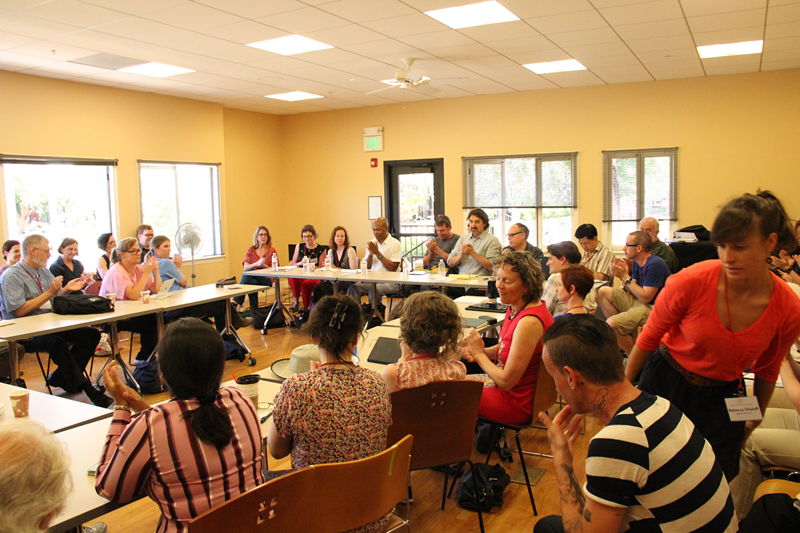 Conference meeting
(Article: Zhang Pengwei; Photos: Bai Shui, Chen Guang; Editor: Rong Shu)