2013-6-24
On the morning of 22 June, STA held great commencement for students graduated in 2013 in STA Theatre.
Leaders, teachers and more than 500 students attended the commencement. the leaders are: Secretary of STA Party Committee Lou Wei, President Han Shang, Deputy Secretary Hu Min, Vice President Huang Changyong, Gong Baorong, Zhang Wei ling, Guo Yu, Chief of the Academic Committee Ye Changhai, Dean of the Office of Academic Affairs Li Zhenlin, leaders from different colleges He Yan, Lu Ang, Lu Jun, Wang Lvwei, Hu Xuehua, Wang Lijun, Chen Jianian, Liu Zhixin. The commencement was host by Hu Min, Deputy Secretary.
Firstly, all teachers and students rose up to sing the national anthem. Vice President Guo Yu announced the lists of honored graduates; Vice President Zhang Weili announced the lists of the excellent dissertations. Leaders of STA distributed awards to all students mentioned above.
Jiang Jinfu from Acting Department gave the speech on behalf of all graduated students. He recalled the four beautiful years, expressed the gratitude to teachers and STA, and wished bright future for all students. The parent of Zhu Yushuang from Dancing Department expressed gratitude to STA, best wishes for children's future and STA. Yi Tianfu, on behalf of teachers, encouraged students to brace new challenge and never give up dreams.
President Han Sheng gave speeches in big applause. He told students to have good preparation for the choice of the art. He mentioned a new interpretation of the fable Races between Rabbit and Turtles from an article of Wang Yun. The departing gift was given: the best behavior would not be as good as an excellent behavior habit. President Han placed emphasis on the confidence we should have for the development of Chinese culture and art. There would be a promising future for cultural and creative industry. The point is who will do better, how to develop and the taste/value to develop. There are both opportunities and responsibilities in the development. Universities should play an important role in passing, reserving and development human culture. And art universities should shoulder this holy mission even more. Teachers and students from STA are necessarily given the mission by history and by society. At last, he encouraged students to strive for a bright future with dreams, opportunities and hard work.
The ritual of passing the flag was held. In the STA anthem, graduates swore together, "We grow up in STA, and will success in future. We bear STA spirit in mind and shoulder commission of the time. We will stick to the art dreams and great aesthetic creed, work hard and create the great to serve people and achieve cultural development and prosperity. Today I am proud that I am a student of STA and STA will be proud of me in future. " After reading the swearing , students even shed tears of lingering.
A ceremony at which degrees or diplomas were conferred was held. Vice President Gong Baorong announced the decision and list of students who got doctor or master degree; Vice President Huang Changyong announced the decision and list of students who got bachelor degree. All diplomats were then distributed.
At the end of the commencement, all teachers and students sung the Graduate Anthem and took pictures together. Everyone was holding a deep feeling for our academy.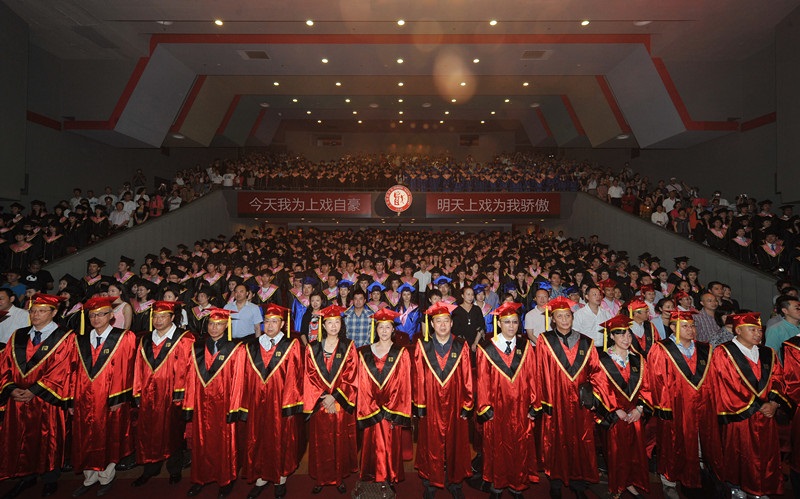 all participants sing the national anthem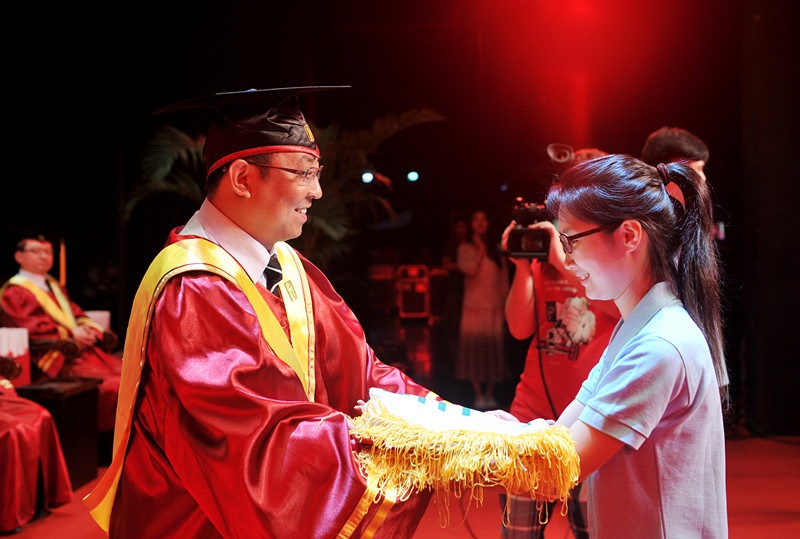 STA Chairman Lou Wei presenting the student theflag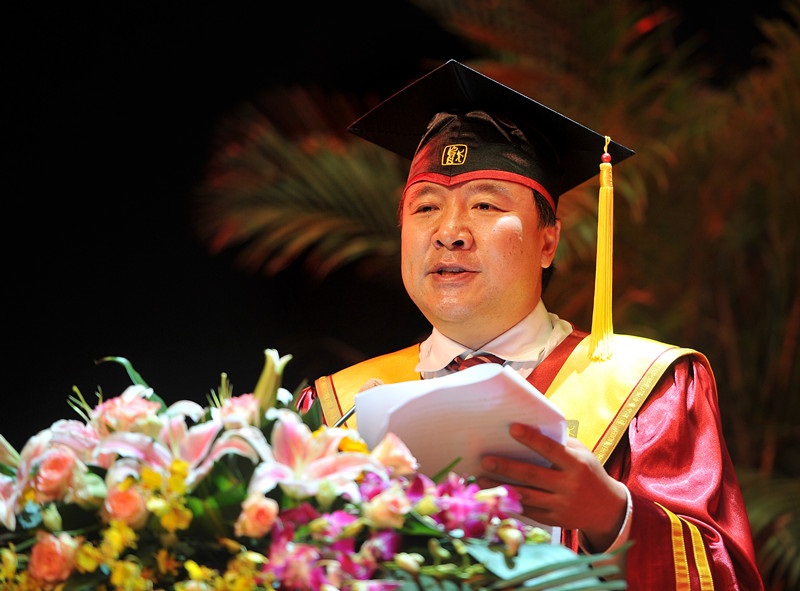 STA President Han Sheng giving a speech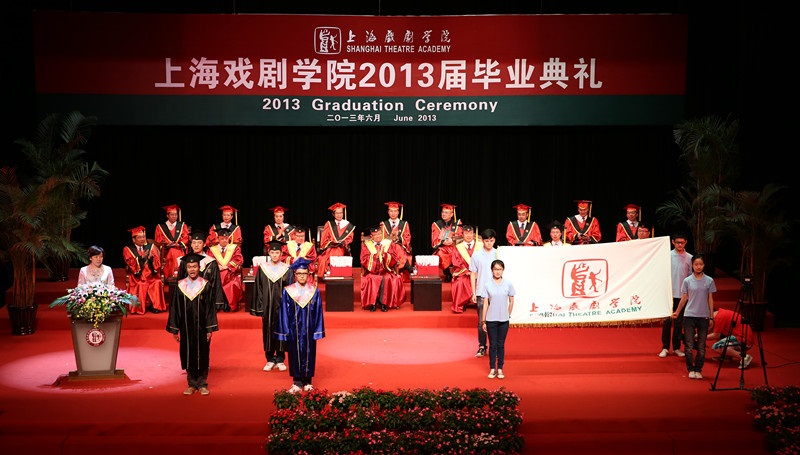 Flag Relay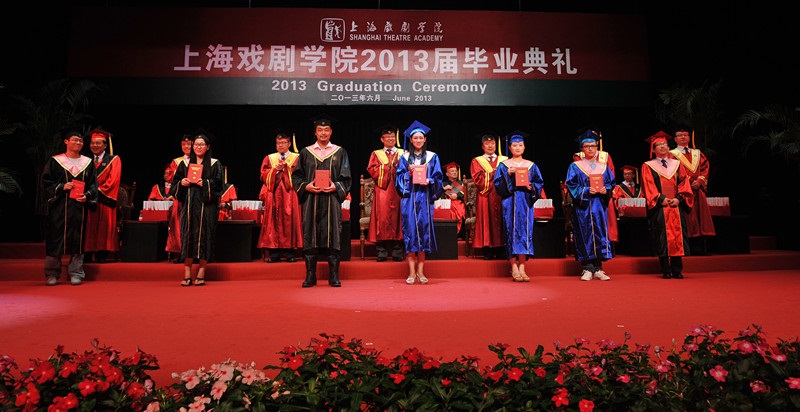 STA leadership awarding students with the graduation certificate
(Article: student journalist Gu Qiumeng, Hu Xiao; Photos: Jia Qi, student journalist Yang liyuan, Gu Qiumeng, Feng Jing; Editor: Rong Shu)