2013-6-10

From 3 June to 5 June, Jeffery Alan Jones gave lectures to post graduates on the design art of the film sound. Mr Jones is a famous recording engineer, composer and sound designing expert in Hollywood, and the lecture was among the series of Hollywood Panorama: high-end researches organized by Post Graduates Deportment.
Mr Jones won many awards in the field of composing and recording. His art is stylistic and he created or co-created more than 150 films, advertisements, games. He was sound designer for many films including Batman: the Dark Knight (directed by Christopher Nolan), Super 8 (Directed by J.J. Abrams), No Country for Old Men (Directed by Coen Brother), TRON: Legacy (directed by Joseph Kosinski), Titanic (Directed by James Cameron), etc. His new film Forced won Best Sound Designing in Los Angeles Film Festival. Mr Jones is also active in sound design and produce by new media, and he just successfully finished sound designing for The Wonder, a new film produced by Shanghai Film Factory.
Students interacted actively with Mr Jones, and raised questions about sound designing , recording, sound editing and film editing, the choice of the music and sound cooperation, sound imitation, etc. Mr Jones answers them in detail patiently
To express gratitude, Hu Xuehua, the president of the College of Film and TV, issued certificate to Mr Jones. The lecture ends in a big applause.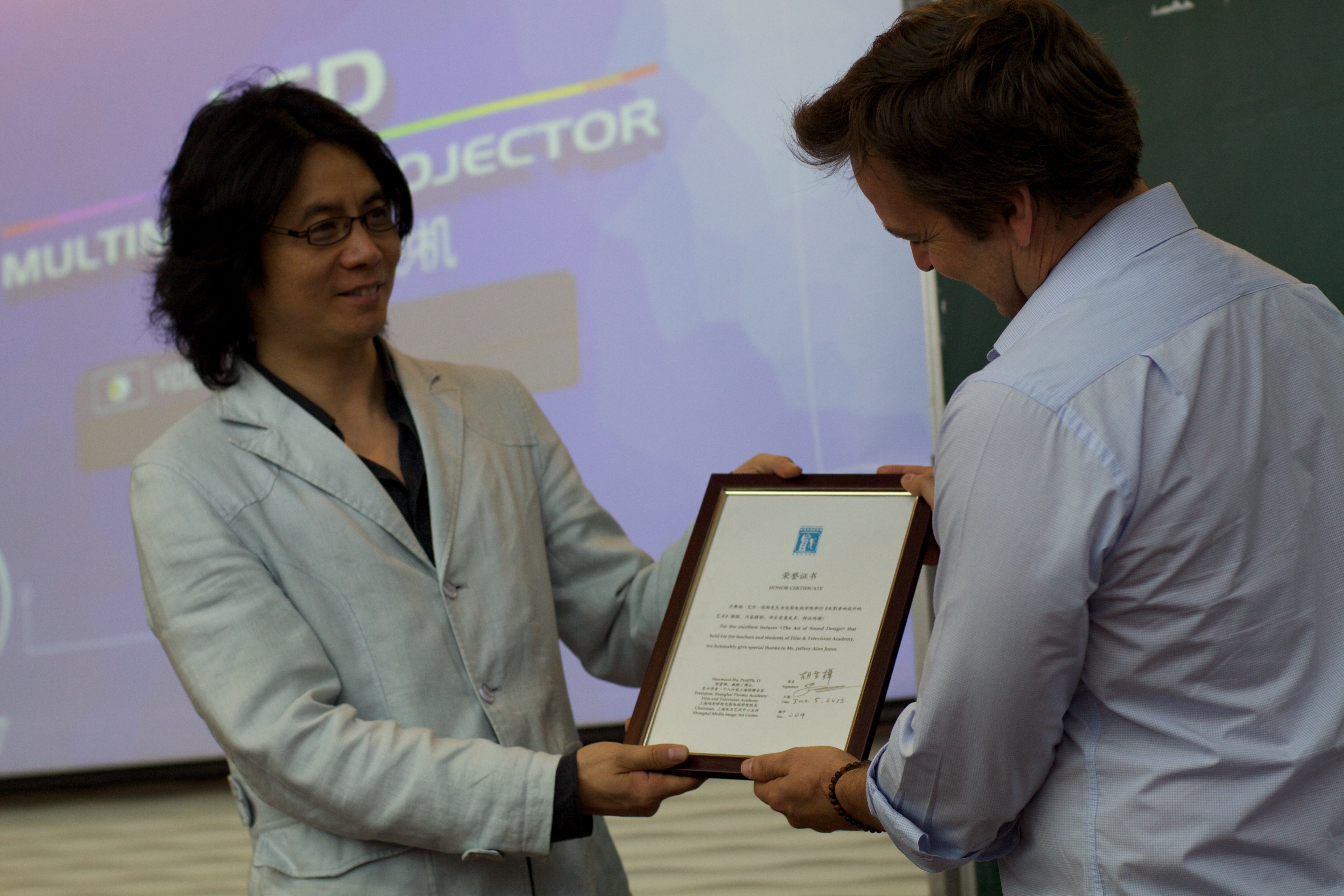 Mr. Jones accepts the certificate of honor from STA

(Article & Photos: the College of Film and TV; Editor: Rong Shu)